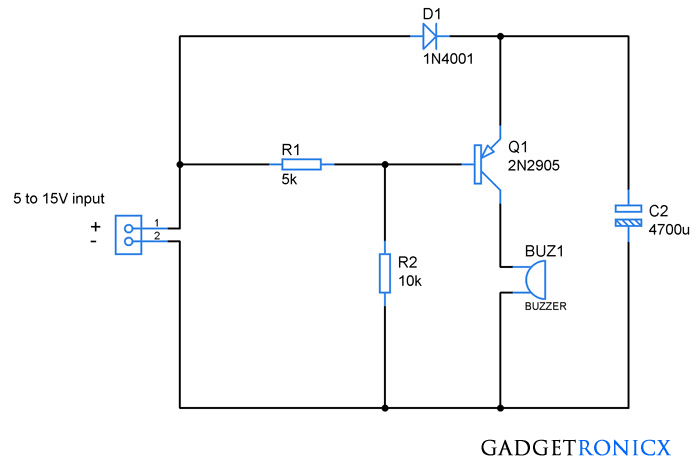 This was a simple power failure alarm circuit and it can be widely used where indication during power failure was required. Most of the power supply failure alarm circuits requires a individual power supply for themselves in order to make the alert in case of power failure whereas the above circuit doesn't require such dedicated power supply. This feature gives this circuit a greater advantage than the other circuits you find all over the internet.

WORKING OF POWER FAILURE ALARM CIRCUIT:
This circuit is capable of working with input voltage ranges from 5 to 15V DC. The Electrolytic capacitor and the PNP transistor Q1 2N2905 forms the back bone of this circuit. Initially the input voltage is fed through to the base of the Q1 through the resistor R1 which limits the base current. We all know that the PNP transistor will be in off state when there is base voltage greater than 1V. And therefore this prevents the buzzer from producing the alarm sound.
The electrolytic capacitor C1 was employed in this circuit to store adequate charge, to feed power to alarm circuit which sounds an alarm for a reasonable duration when the supply fails.This supports the circuit to work after the power failure without any external supply source.
Whenever the supply fails the base voltage of the Transistor Q1 drops down below 1v and saturates it. The resistor R2 was added to ensure that the transistor remains in the ON state in the absence of power supply. This turns the buzzer ON and it continues to produce the sound until the capacitor is completely discharged. This makes the circuit to alert people in case of power failure even in the absence of dedicated power supply.    
PCB LAYOUT: