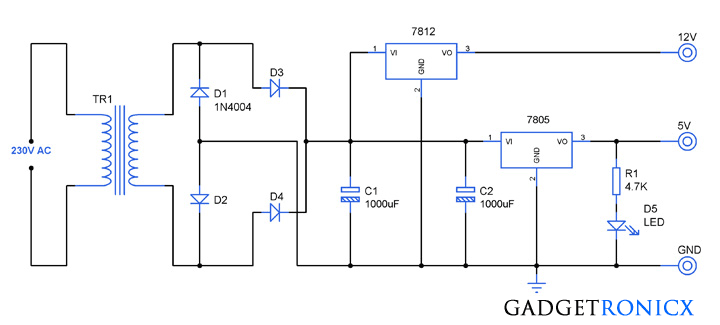 Dual power Supply Circuit
Power supply form the basic building block of any electronic circuits and therefore its important to familiarize the DC power supply circuit construction. The above given circuit illustrates a simple approach to construct a dual DC power supply of 5V and 12V from the 230V AC mains supply. The Voltage ranges 5V and 12V are widely used in all kinds of simple electronic circuits, so its meaningful to learn this simple construction. 
WORKING OF DUAL POWER SUPPLY CIRCUIT:
The above circuit obtains power from a 230V AC mains supply voltage and fed into a step down  transformer for transforming higher voltage supply to lower one. The transformer TR1 can be of 230V primary ,15V secondary and 1A step down transformer. The stepped down voltage can be fed into the bridge rectifier made of four 1N4004 diodes for the conversion of AC supply to DC one.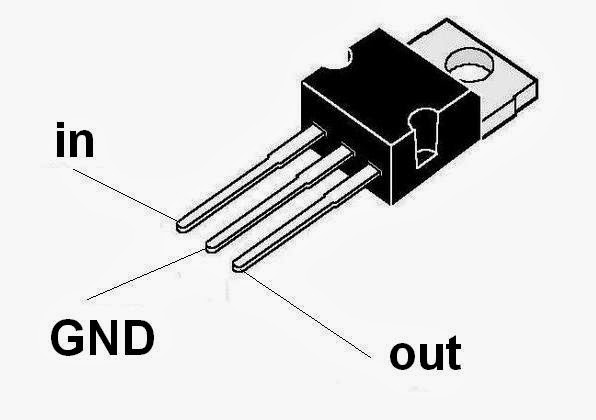 IC regulator pinout
The output from the bridge rectifier was filtered by the capacitor C1 and C2 to offer a steady DC level to the input pins of the regulators used in the above circuit. The DC voltage is then fed in to the IC 7805 which is a 5V regulator and also to the IC 7812 which was a 12V regulator. The output obtained from the 7805 & 7012 are 5V and 12V respectively. A LED D5 was connected through the current limiting resistor R1 for indicate the state of the device.
This kind of circuits are highly useful where two dual range of DC voltages are used to power the operation of a circuit. Varying the voltage regulator IC 's 7805 or 7812 with 7806 and 7808 to obtain 6V and 8V as output. But each IC have minimum and maximum voltage requirements, so make sure you build in such a way to meet the requirements.