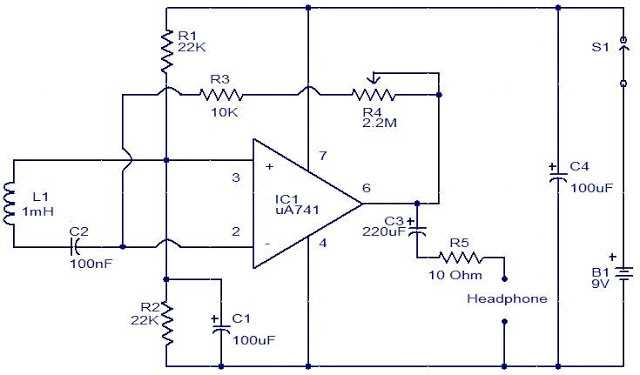 This is a very simple circuit which was used to detect the Electromagnetic field which was around us.The principle behind this circuit was mutual induction whenever a EMF was near a inductor mutual inductance takes place and due to this mutual induction it results in a voltage in the inductor.Using this induced voltage the EMF field was detected.Lets see the working of emf sensor circuit.


 WORKING OF EMF SENSOR CIRCUIT:
As said above here a 1mH inductor was used as a sensing element for this circuit to detect the EMF.Whenever the inductor was near the EMF field a voltage was induced in it.But the voltage induced due to the EMF field was very less so it needs to be amplified before going into the next stage.Here the most common IC uA741(Op-Amp) was used as Amplifier to increase the strength of the voltage.9V battery was used to power the circuit and a switch was provided to make the device on or off.
The input of the wired amplifier was given to the terminal 3&2 which is inverting and non inverting terminal of the amplifier.The output voltage will be amplified and was obtained from the 6th pin.A simple variable resistor is connected to the output 6th pin which was used to adjust the gain of the amplifier.And finally  the output was given to a headphone whenever the inductor senses a EMF field it was heard as a hum sound in the headphone.The headphone can aslo be replaced with devices like voltmeter to detect the EMF field.In order to make the circuit interesting here headphone was used.
PIN DIAGRAM OF uA741: