Simple 40W Inverter Circuit
Inverter Circuits vary with the power requirements and been widely available all over the internet. Here is a 40 watt inverter circuit which uses IC CD4047B and some transistors to perform the desired action. First of well for those who are not aware of inverters here is something to give you the idea about it. Inverters is nothing but an apparatus which converts direct current into alternating current. So with the help of this circuit you can power a simple household AC appliances such as lamps using a 12v Battery. This will help in meeting up the energy demands, power failures and to places where the wiring is not possible. Lets move into the working of this simple inverter circuit.
WORKING OF CIRCUIT:
The heart of this circuit is a CD4047 IC which is wired as Astable Multivibrator here. As we all know that a Astable Multivibrator will produce a series of square pulses in the output. The resistance and capacitor connected to the pin  2 and 3 will decide the frequency  of the output pulses. Here the Astable Multivibrator is wired to give a frequency of about 60Hz. This Multivibrator gives totally two outputs at pin 10 and 11 with both pulses have similar frequency. But the phase of the signal varies about 180 degrees that is the inverted signal of the pin 10 will be obtained from the pin 11. Thus a square wave pulse was obtained from this Astable Multivibrator.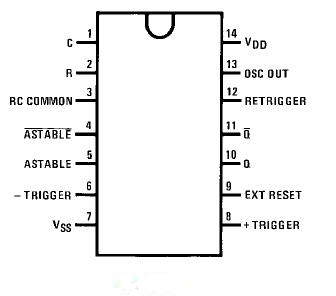 The output waves are amplified by the complementary symmetry amplifier made of transistors BC337 &  TIP 3055 to drive the output transformer. The amplified signal is then fed to the transformer for stepping the voltage level of the signal. You can opt for any output voltage of 110v or 220V. You can also use a simple transformer of 110v or 220v but your option of deriving multiple voltage ranges will be eliminated. There will not be any change in the wave shape as the steeped up signal will also be a square wave. Therefore this inverter is also known as digital inverter since the output pulse obtained was a square wave. Thus the above circuit is capable of driving 40W load and use it with caution when using it with high loads.