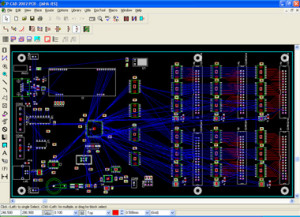 PCB(Printed Circuit Board) is the heart of a electronic circuit.It provides the flow of voltage between various components and establishes a connection between them.So it was considered as the heart and soul of the electronics.
And every electronics student definitely loves to be a PCB designer because it was more interesting than any other branches of electronics.Moreover getting expertise in PCB designing will definitely gives you a great future in electronic hardware field.

WHAT IS PCB DESIGNING?
PCB designing means a branch which deals with the implementation of various components and to establish electrical components in the circuits and to simplify the size of it. In olden days PCB was produced and electrical contact was established using wires but it seems to be more costly and also it reduces the performance of the board.
Then copper traces has been introduced to establish electrical contact between the components.The electrical contact was just printed in the board thus it get the name as Printed circuit board.Therefore PCB designing is bit different than the normal board designing.
SPECIFIC CHARACTERS OF PCB DESIGNING:
The most significant character of PCB designing it makes the circuit efficient,cheaper and increases reliability,performance and speed. PCB boards have been everywhere in the field of electronics and it also evolving further to give a better design for the user. 
COMPOSITION OF PCB DESIGNING:
PCB designing comprises of both the hardware and software. PCB boards have been designed using the software and then the design is then made as schematic and then it was converted into layout in the PCB board.So both software and hardware is used as a tool in the PCB designing. Read Top ten PCB designing Software.
TO STUDY PCB DESIGNING:
To study PCB designing these are the vital things you must know or study before getting yourselves in the PCB designing.


Good knowledge in electronic circuits and component applications

Good knowledge in managing power supplies 

And basic knowledge in using designing softwares.
SCOPE OF PCB DESIGNING:
PCB designing has a very great scope because day by day circuits are getting smaller and smaller with vast applications.So they need PCB designers in large amount to manage circuit perfectly.So many of the hardware companies have been recruiting PCB designers in large amount to develop their company so those who have desires to be a part of hardware companies must study this and it was highly recommended by the experts.Get trained to enhance your skills.All the very best electronic engineers.