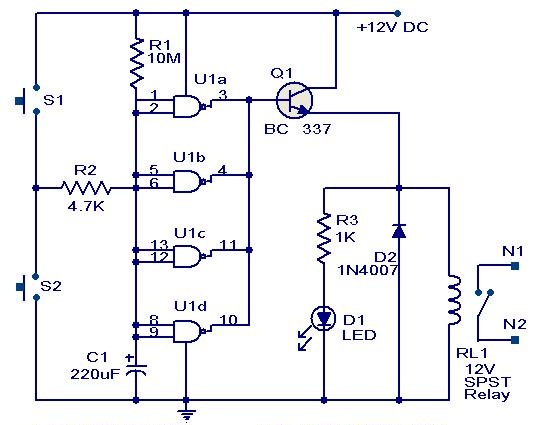 This circuit is designed to give a long duration timer to switch on and off any appliances.This circuit can offer upto 30 minutes of  duration.Moreover this circuit can switch off devices like radio,Television etc.This circuit will help a lot in power consumption.
WORKING OF LONG DURATION TIMER CIRCUIT:
The circuit is based on quad 2 input CMOS IC 4011(U1).The resistor R1 and capacitor C1 produces the required long time delay.This works when the switch S2 is pressed then the capacitor C1 discharges and input of the four NAND gates are pulled to zero.The four shorted outputs of U1 go high and this drives the transistor Q1 to drive the relay.
The appliance connected via the relay is switched ON.When the S2 is released the C1 starts charging and when the voltage at its positive pin becomes equal to one and half of the supply voltage the outputs of U1 becomes zero and the transistor is made to sitch off.This makes the relay deactivated and the appliance connected through the relay is then turned OFF.The timer can be made to stop when required by pressing switch S1.The time delay can be varied by varying the values of C1 and R1.