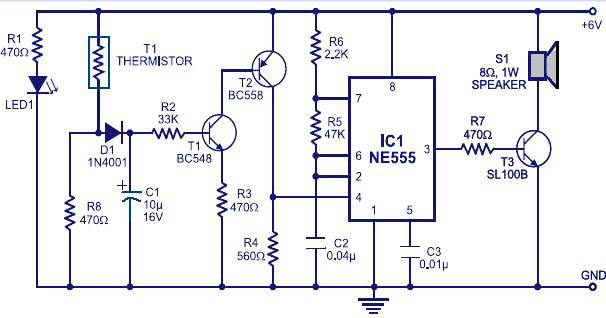 We have seen many alarm circuits but Fire alarm was one of the most important among all. In many buildings,industries and houses fire alarm circuit have been installed in order to alert people them in case of a fire break out in the buildings. So now we can study how this circuit and what are the principles of this circuit briefly.
WORKING OF FIRE ALARM CIRCUIT:
This circuit uses IC1 (NE 555), Thermistor, Resistors, Capacitors and Transistors in it.The IC1 is configured as a free running oscillator at audio frequency.Timer IC (IC1) can produce continuous signal when used as a Astable Multivibrator. Thermistors are the special purpose ICs whose temperature varies significantly with temperature and here we are using NTC (Negative Temperature Coefficient) Thermistors. These Thermistors exhibit high resistance when temperature is low and low resistance when temperature is low.Thus in this circuit this was used to sense the rise in temperature in the surroundings.
Initially when there is a fire break out the resistance of the Thermistor decreases and this allows the voltage to the base of the transistor through the diode D1. The function of the Diode is to allows the current in one direction through it. In this process the capacitor C1 get charges up and increases the time for which the alarm in ON.The larger the value of C1 larger the positive bias applied to the Transistor T1. As the collector of the Transistor T1 is coupled to the base of the Transistor T2 the transistor provides a voltage to the pin 4 (reset) of the NE 555 IC.It is the function of R4 which keeps the IC inactive unless positive voltage is given through transistor.It should be selected in such a way to keep the IC inactive.So thus it makes the Speaker to give sound when there is a fire breakout in the building.
The same reverse process happens when there is reduction in temperature it cools out the Thermistor therefore it gives the high resistance path to the voltage flow thus inhibiting it from reaching the Transistor therefore it keeps the IC1 in inactive state therefore the alarm remains off.
PIN DIAGRAM OF IC 555

: