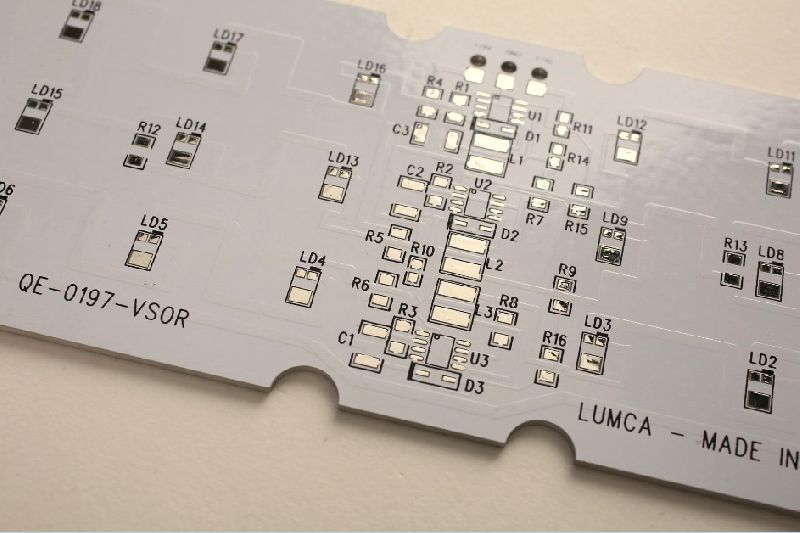 Printed Circuit Boards or PCBs as they are called, have been one of the most important revolutions in the world of technology. Replacing redundant and inefficient wires, they helped to rapidly accelerate the world of technology, and thereby permitting of the many marvels that exist all around.
When it comes to the PCBs themselves, there are two main varieties around on the basis of the metal of choice, namely Aluminum and Copper. Preferred for their ability to conduct electricity as well as heat, they make up the bulk of PCBs that are manufactured in the world today.
Although they both share similar properties and functions, there are still a few variations between the two kinds of PCBs. Some of the key differences between aluminium and copper core PCBs are explained in the points below.
1. Price of the Metal
This is by far one of the key considerations, when it comes to PCB designs, which is the price of the two metals. While the prices of metals are always fluctuating in the marketplace, copper is generally more expensive in comparison to aluminum, due to its comparative rarity.
Therefore, where budgetary considerations are more than other aspects such as design or application, choosing aluminum PCBs over copper ones is a good decision.
2. Thermal Conductivity
When it comes to the issue of heat and its management, aluminum will stands out over copper, due to what is called 'Thermal Conductivity'.The term is a reference to the rate at which heat is transferred in the metal, with aluminum offering a faster rate of heat transfer, in comparison to copper.
Due to this, copper boards are better when high temperatures may damage the internal components, or where higher power levels are required. In simple words, any applications where heat dissipation is a major requirement, the PCBs will do well with copper while others will do fine with aluminum.
3. Electrical Conductivity
Both aluminum and copper, being metals, are electrical conductors of electricity, although the exact degree of this varies between the two metals. When it comes to electrical conductivity, copper has a clear advantage over aluminum, and is the best pick where this aspect of the PCB design is of utmost importance.
In other words, in applications where there is a need for efficient electrical conductivity, copper makes for an ideal pick.
4. Number of Layers
When it comes to PCBs, the design is often of two types, namely single and multiple, meaning that the board can either have a single layer, or multiple ones.
This is one of the most important considerations, when it comes to the choice of metals. Aluminum is best suited for single layer PCBs, given the difficulty in manufacturing multiple layer ones. For applications where multiple layers are required, copper is an ideal metal, since it a lot easier to produce PCBs with multiple layers using the metal.
5. Environmental Impact
This is one of the newer considerations that need to be taken into account, given the rising awareness among producers and consumers alike. When it comes to environmental impact, aluminum is considered to be a better choice when compared to copper, for a host or reasons.
The reasons for aluminum holding this advantage include, the generally higher abundance in nature, ease of refining and manufacture, ease of recyclability, low energy requirement and non-toxic nature. In the case of copper on the other hand, these characteristics are either non-existent or applicable to a lesser degree.
6. Electrical Resistance
The term 'resistance' refers to the rate of opposition that a substance has, to the flow of electricity. In simple words, it is the amount of 'resistance' that a substance offers, when electrons are allowed to flow in them.
This is very important when it comes to PCB design, as it can have an effect on the overall function and stability of the component. Given that copper has a higher density than aluminum, it tends to have a lower resistance than aluminum.
Due to this reason, copper makes for an ideal choice where there is a requirement for thinner circuits and faster electricity transfer.
7. Ductility
The term ductility is a reference to undergo plastic deformation, before rupturing. While both aluminum as well as copper, being metals, is ductile, they do have variability in this regard. In general, copper offers a higher degree of ductility in comparison to aluminum, making it a generally suitable option for PCBs.
8. Weight
Copper is heavier than aluminum, due to its higher density per unit area.This is an important characteristic difference, which makes itself apparent in the design of PCBs.
In applications where light-weight construction is required more than anything else, aluminum is the preferred material of choice. On the other hand, applications where weight is not much of an issue, tends to be the ones where copper is widely used.
9. Drilling
One of the most common aspects of a PCB design, is that of drilling. The design of all PCBs in general, is made using a main substrate layer such as fiberglass, and on top of which are the metal ones that carry the electricity. In multi-layered PCBs, this process can be repeated multiple times, until the required number of layers is achieved.
The design of dual or multilayered PCBs is in turn, requires the circuit to be drilled through, for the different sides to be 'connected' to each other. And this is where the challenge lies. When it comes to drilling the hole, copper is an ideal candidate, while the same cannot be said about aluminum. It is for this reason that aluminum PCBs tend to be restricted to those circuits where only one single layer is required, while copper is widely used in applications where multiple ones are necessary.
10. Applications
The applications of PCBs are widespread in the world of technology, with the component being used in just about everything imaginable. At the same time however, the type of PCB in use varies from application to application. In general, almost all standard PCBs in use are those made using copper. The aluminum ones on the other hand, although used in many applications, make their presence most felt in cases where there are light-based requirements, such as lighting, scanning, etc.
Last but not the least, the above mentioned points lay out some of the main differences between the two different varieties of PCBs. In addition to these, there are several others as well, which are worth mentioning, albeit of lesser importance, in comparison to the ones that has been explained.