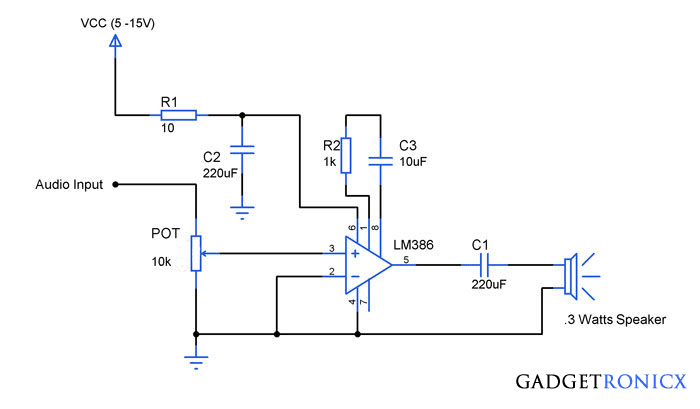 Audio Amplifier using IC LM386
Amplifiers are used to boost the strength of the input signal and give an amplified version of the signal in the output. Audio amplifiers are widely used in Stereo or Home theater systems, Mini speakers etc. There are numerous ways to build a Audio amplifier circuit but nothing is efficient as building using a dedicated Audio amplifier IC. The above circuit diagram shows the connections and components used to build a Audio amplifier.
IC LM386: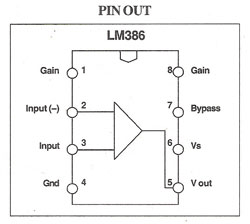 Pin diagram of LM386
LM386 is a simple low power audio amplifier used in most of the Audio circuits for its less power consumption. This IC is capable of giving a output gain of about 200 when external components are used along with it. But when you use it without adding external components its capable of delivering amplification of 20. 
The pin 1 & 8 are meant for altering the gain level by tying up a capacitor or RC pair in between them. Audio input was fed through the Non inverting input pin while inverting input tied to the ground usually.
WORKING OF AUDIO AMPLIFIER CIRCUIT:
The IC is initially powered by means of Vcc, Resistor R1 and Capacitor C2 was used to prevent oscillations in the circuit. The Resistors R2 and Capacitor C3 plays a major role in this above circuit as it alters the output gain obtained in the output. Adding a single capacitor of 10uF will help us to obtain max gain. While using along with resistor will help you obtain a gain of about 50db. The positive terminal of C3 should be connected to pin 1 and negative to pin 8 of the IC LM386.
Capacitor C3 was used to couple the output to the speaker and POT can also be used to tailor the gain of the obtained output signal. The increase gain is only used when a very low input signal is to be amplified. You can feed any Audio signals to this circuit and this works just fine to do its purpose.