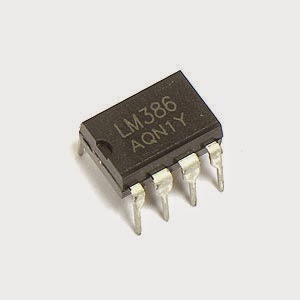 Audio amplifier IC LM386 is a widely known Audio amplifier used in  many audio circuits due to its miniature size and affordable cost. This article was meant to make you understand the working of LM386 IC and how to use in amplifier circuits. 

AUDIO AMPLIFIER IC LM386: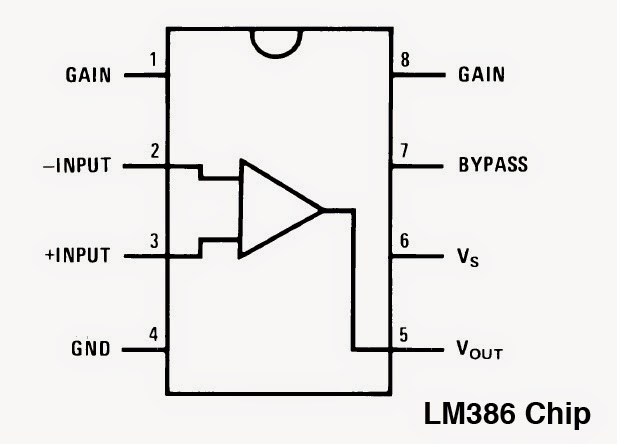 LM386 is a 8 pin Power amplifier IC suited for low power applications. It has a wide supply range from 4v to 12v and capable of providing voltage gain from 20 to 200.  The output gain is internally set to 20 to reduce the usage of external parts and can be modified using two pins of the IC.
WORKING OF LM386:

PIN 1 & 8 ( GAIN) : These two pins are used to control the output gain of the IC. Using a capacitor between these two pins will result in maximum gain 200.  While using a resistor in series with capacitor in between these two pins can help you to alter the gain value from 20 to 200.
PIN 2 (-INPUT) : This pin is meant for feeding Negative input.
PIN 3 (+ INPUT) : This is the positive input pin of the IC. The input is connected to this using a POT which adjusts the input signal level which acts as a volume control.
PIN 4 & 6 (GND & VS) : Pin 4 is the ground pin and Vs is the power supply pin of this IC. 
PIN 5 (VOUT) : This is the output pin of the IC. The signal obtained from this pin is automatically biased to half of the supply voltage. This will allow to obtain the full swing of the output in both the halves of the signal.
PIN 7 (BYPASS) : This pin allows you to access the un-amplified input signal in case if you needed it. 
SAMPLE CIRCUITS OF LM386:

Sample circuits of LM386 given in the datasheet