​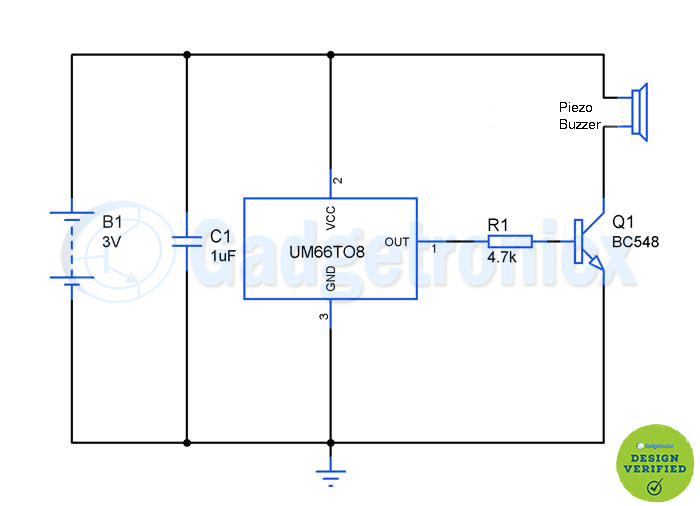 Melody/Music circuits are used in greeting cards, door bells, alarms etc and in each of these applications we are acquiring different music as output. Ever wondered how? and would you believe if i say that all the above applications are done by a single IC with three pins. Yes UM66TXX is the IC employed  in any kind of miniature musical or melody generator circuit.
The above shown circuit was a "Happy Birthday to you" melody generator circuit where UM66T08 forms its backbone. Now you can wish any person on their birthday as a Electronics Engineer in style using this above circuit. Cool isn't it? Lets move into the description about the working components of the system.
IC UM66TXX SERIES:
The UM66TXX series is  a CMOS LSI designed specifically for use in melody, tone generation and such circuits. It consists of a on-chip ROM programmed with a particular music or tone to give the musical performance to the user. This IC consumes only low power since it was produced by CMOS technology. The tone produced depends on the last two digits of the IC. Here are the list of some common tone and their equivalent numbers.
UM66T01 – Jingle bells + Santa is coming to town + We wish you a merry xmas

UM66T02 – Jingle Bells

UM66T04 – Jingle Bells + Rudolph the red nosed reindeer + Joy to the world

UM66T05 – Home sweet home

UM66T06 – Let me call you Sweetheart

UM66T08 – Happy Birthday to you 

UM66T09 – Wedding march 

UM66T11 – Love Me Tender, Love me True

UM66T13 – Easter Paradise

UM66T19 – For Elise

UM66T32 – Waltz 

UM66T33 – Mary Had a little Lamb

UM66T34 – The train is Running fast

UM66T68 – Its a small world
WORKING OF MELODY GENERATOR CIRCUIT:
The working of the circuit is simple and straightforward. I have used UM66T08 a Happy Birthday Tone generator IC in the circuit and you can substitute with any other ICs in the above list. The operating voltage of the circuit is around 3v so i have used a 3v coin cell to power the entire circuit unit above.
The output of this IC was then fed into the base of the transistor. The output from IC UM66XX series is quite low so we need to use transistor to drive the buzzer. The buzzer is connected to collector of transistor Q1. A NPN transistor BC548 works fine here and a resistor of 4.7k was used to limit the current fed to the base of transistor. When UM66 activates and sends the tone as output it activates the transistor and drives the buzzer.