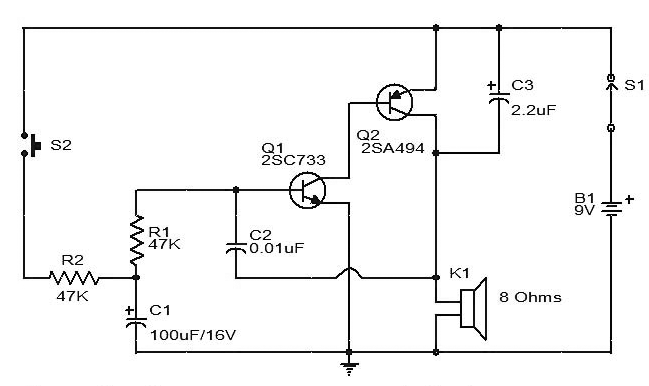 Siren Circuit using simple Transistors
The above given was a simple Siren Circuit diagram using transistors which can be built and implemented by means of low cost. The basic principle behind siren circuits are producing waveforms which differ in frequency and then fed into the speaker. So the sound output obtained from the speaker will be like a siren. Here the siren was built around two transistors and a RC circuit. Here is another Siren Circuit built around two simple IC 555.

WORKING SIREN CIRCUIT:
The two transistors used in the above circuit forms the oscillator which emit signal of certain frequency. In order to obtain siren sounding effect we need to alter the frequency of the output signal from the oscillator. In order to do this the base of Q is biased by through a RC circuit which comprises of R2 and C1. The siren effect was operated by means of a simple switch S2 which was connected to the R2.
The circuit starts sounding as soon as the S1 is closed but at this moment speaker will produce sound of same frequency. To vary the frequency Switch S2 must be pressed, when it happens C1 gets charged through resistor R2. As a result the voltage across the C1 increases the time constant which was given by T= R * C and in turn the frequency of the signal will be increased. When S2 was released capacitor discharges and therefore the frequency returns to the normal level of the oscillator. And by this way increase and decrease in signal frequency sounds like a siren.
ATTRIBUTION: Circuits today