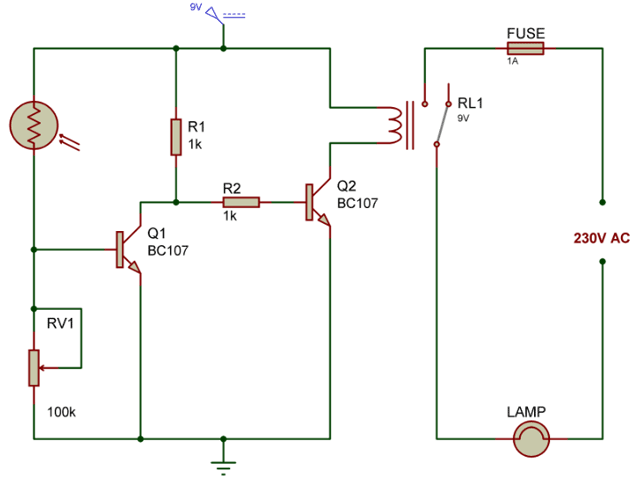 Automatic Night Lamp Circuit
Night lamp circuits generally employ LDR to sense the light in the environment and turn on the light based on light intensity. Here is a similar circuit which uses LDR and transistors to switch the lamp during night time. Relay was used above in order to switch the lamp ON/OFF. Lamp was powered by 230v AC supply and Fuse was added to offer protection.
WORKING OF AUTOMATIC NIGHT LAMP CIRCUIT:
The LDR (Light Dependent Resistor) used to sense the light in the environment. LDR has the characterstics of giving high resistance in dark and low resistance during day time. The RV1 should be adjusted until the transistor Q1 is switched ON. When the transistor Q1 was in ON state it keeps the Q2 in OFF state. Therefore the relay is in OFF state and the lamp remains in OFF state.
When night falls, the resistance of the LDR increases and therefore the base voltage of Q1 decreases below 0.6v. This makes the transistor Q1 to switched off which in turn makes Q2 ON. Then the relay gets turned ON switching the lamp ON. The bulb of any wattage can be used provided the relay should have sufficient rating.