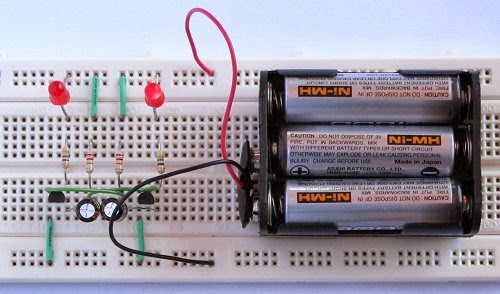 Hello today i have come up with a list of cool electronic circuits which tops the visitors hits in our site. The main aim of this post is to offer you some of the best circuits which you might have been missed. This is the best time to post this since we have have almost reached the end of this year. Here is the list of best diy electronic circuits in our site.

DESIGNING OF WIRELESS MODEM USING IC 555 and PLL 565
This circuit describes about building a wireless modem using IC 555 as FSK Modulator and PLL 565 as FSK Demodulator. The transfer of bits take place by means of simple Infra Red (IR) link.Read full article here
TRAFFIC LIGHT SYSTEM USING 8051 AND 7SEGMENT
This design explains you about constructing a simple one way traffic light system using 8051 MC and a 7-segment using Embedded C. The Proteus Design file and Hex file of this design is also added for downloads.Goto the article
DEVICE ACTIVATOR USING IC 555 AND RELAY
This circuit describes about the construction of a simple device activators with specific timing using IC 555 and Relay. The design file is also added to for better understanding Goto the article
SELECTIVE TIMER CIRCUIT USING CD4060
This circuit describes the working of a selective timer circuit that could capable of providing specific timing delays using IC 555 and CD4060.Goto the article
DC MOTOR CONTROL USING IC 555
This DC speed control was constructed by means of the timer IC 555. The IC was used to generate PWM (Pulse Width Modulation) signals and thus it was used to control the speed of the motor.Goto the article
The following two tabs change content below.
Frank Donald is an Electronics and Communication Engineer who loves building stuff in his free time. Video games, blogging and programming are the things he loves most
Latest posts by Frank Donald (see all)