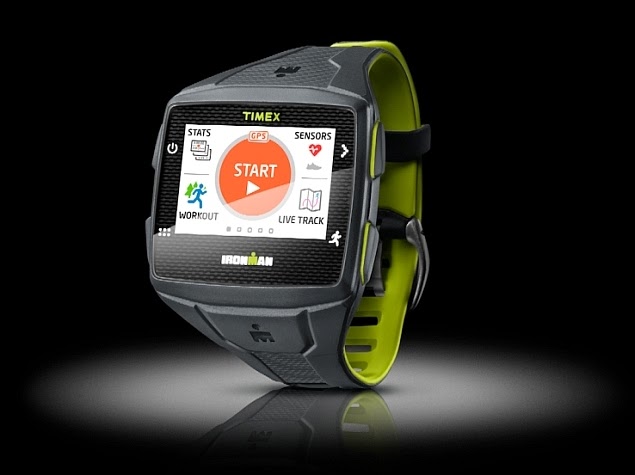 Timex Ironman One GPS+
Smartwatches have been getting real famous and no wonder many companies jumped into the smartwatch competition. Companies like Samsung, Sony, LG etc developing their own line of smartwatches as a accessory to their smartphones. Leading watch manufacturer Timex stepped into this market by unveiling a standalone smartwatch, Timex Ironman One GPS + that is it doesn't need to connect with smartphones for data or other purposes.
Timex joined hands with AT & T and Qualcomm to create a connected smartwatch that is target mainly for the fitness. Unlike other smartwatches in the market, Ironman One GPS+ comes with 3G connectivity and GPS, So there is no need to connect smartphones with it.
It features a Qualcomm Chipset, Mirasol screen technology, 1.5 inch touch screen and four physical buttons. The company offers one year of free Internet data in partnership with AT&T. Apart from GPS and Built in 3G radio, the Ironman One GPS+ brings 4GB of built in storage to store music that can be played via bluetooth headset.
With GPS support, the device is capable of tracking speed and distance. In addition Ironman One GPS+ with heart rate variant can also monitor the heart rate. It added with Find me mode where users can alert their friends in case of Emergencies and can be tracked through the GPS. The built-in messaging app can be used to communicate with contacts through special email address.
The device comes with a very few built-in applications and timex looking to open up the ecosystem for developers to make apps for the smartwatch. It will be available in two colors- Black and Green. Sources revealed each unit priced at $399.95 whereas the one with Heart rate variant will be of $439.95.
The following two tabs change content below.
Frank Donald is an Electronics and Communication Engineer who loves building stuff in his free time. Video games, blogging and programming are the things he loves most
Latest posts by Frank Donald (see all)