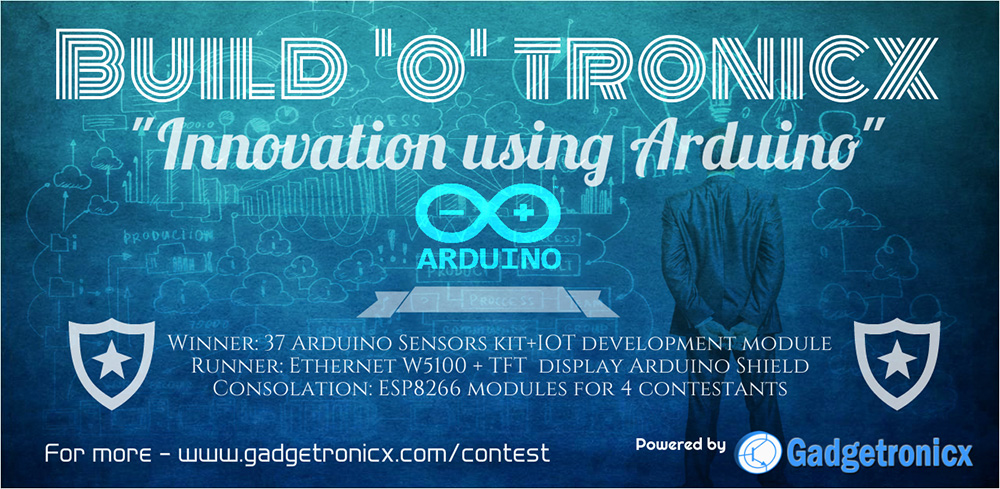 Welcome to " BUILD 'o' TRONICX " - a series of contests for DIY Electronics engineers, hobbyists and enthusiasts. Our objective is to bring out the best creative innovations from diverse minds :). So here we are with the the very first contest - Season 1 of "BUILD 'O' TRONICX"  powered by www.gadgetronicx.com. Innovate, build and you will have the chance to win prizes worth INR 5000/-. Let's join hands for better innovation 🙂
IT"S ARDUINO TIME:
In this season, its all about building stuff using Arduino. It's fair to say that Arduino have revolutionized the world of hardware prototyping. This little board have enabled DIY makers to push their limits and innovate. And "Innovate" that's the sole purpose of this contest.
CONTEST TIMELINE:
The contest starts on 12th Jan 2017 and ends on 25th Feb 2017. Entries will be accepted within this timeline. We will provide update about the contest status through Email and social media.
WHAT TO MAKE:
There are no limitations you can build anything and everything you can possibly make using an Arduino. Awesome or Insane the choice is up to you, we just need some damn innovation and cool implementation.
WHO CAN PARTICIPATE:
Participants should be from India.
 CONTEST GUIDELINES:
You can participate as either as an individual or group in this contest.
Your project should be original and made out of you or your team's efforts.
You can use any of

Arduino boards (Uno, mega, nano ,yun ,etc) or their clones.

Usage of other Equivalent Embedded boards or Microcontroller designs will be accepted.
We may request working video of your project if necessary.
We may publish the project in our site.
TO PARTICIPATE:
Build your Arduino project
Take few photos and working video of your project.
Document your project.
Compress the (Photos,Video and doucmentation) into .zip or .rar and send it to us.
HOW TO PARTICIPATE
You can enter this contest using the below two ways.  
VIA SUBMISSION FORM: You contact details (Name, Email id and project file) is mandatory for submitting your entries in this contest. If your project and documents are ready submit it now using the form at the bottom of this page. If you wish to participate in the contest but your project is not ready yet, you can register yourself using this registration form.
VIA MAIL: Finding trouble logging in and submitting your project? You can also submit your project with relevant documents to " webmaster@gadgetronicx.com " . You will receive a confirmation mail from our team regarding the submission.
The projects that are subjected to be published will be done with due credits to the Maker of that project.
PRIZES:
We are giving away prize of total worth INR 5000/- for this contest. Participant E-certificates will be provided for all the competitors
Winner:
37 Arduino Sensor kit + ESP8266-07 module (Total worth INR. 2500/-)
Runner:
W5100 Ethernet Shield + 2.4" Touch TFT LCD display Shield for Arduino (Total worth INR. 1500/-)
Consolation :
ESP8266 modules to 4 contestants  (Total worth INR. 1000/-)
VERDICT DATE:
Winners of the contest will be announced on March 5th through our social media platforms and website. Participants will receive a point tally with feed back from our judges. Process of prize dispatch will commence immediately.
JUDGING CRITERIAS:
The Judging of the projects will be based on following criteria
Idea
Implementation
Documentation
The winning projects will published in www.gadgetronicx.com after the verdict from our judges with due credits for the participant who submitted it. For more details or queries contact " webmaster@gadgetronicx.com "
SUBMIT IT NOW:
Please mention your Username or Registered E-mail below if you are already a member in our site or you can create an account using this" Register ". Leave it blank if you want to submit the project without being a member. If your project is not ready you can just register yourself to the contest here and submit the project and docs later.
Contact webmaster@gadgetronicx.com for any queries.